They aren't pretty but they are wonderful
Cutting into crisp apples grown in your own yard is unbelievably rewarding. I'm working on getting enough juice for at least one or two more batches of jelly.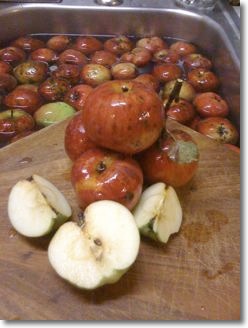 We've been gathering dropped apples for a couple of weeks now. I haven't even tried to manage picking from the tree. There are still plenty up there to pick though. They wouldn't win any blue ribbons for beauty but they are a quite serviceable fruit. I've not taken the time yet to try to identify the type of apple so I haven't a clue what variety we have.

They cook up nicely and produce a fair amount of juice. There should be plenty of jelly through next summer. Although we've inherited a number of projects that we should try to make headway on, the most wonderful quality of the property we purchased is all of the fruit that we acquired. Hopefully, in a season or two, I'll be writing about the grapes we're picking as well.

Those would be in addition to the black raspberries, blueberries, blackberries, pears & apples. I still have to get the red and gold raspberries planted as well as the sour cherry tree. Just a bit of gardening to catch up on in the midst of everything else going on.