05/09/07 12:46
I've been testing out Joost for a while now. Since I have a 5 year old I've been focusing primarily on the shows available on the National Geographic channel. Now you can try it out too! If you don't quite know what Joost is, click on the banner below to get the background info and then feel free to leave a comment and ask me for an invite!
To complete and invite I'll need a valid email address and a first & last name — that's what they want for me to be able to send 'em out.
05/03/07 13:52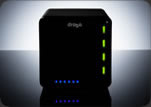 I had the pleasure of beta testing a nifty piece of hardware over the last few months. The
Drobo
, by Data Robotics, which does some amazing stuff with your data deceptively simply.
I've been bitten a few too many times in the last 12 months or so by failed drives. Yes, I do backups. Not as frequently as I should for sure. However, I've had two, count'em TWO backup drives fail on me in the last 6 months alone. Mind you, this was not my main drive (I've had two of *those* fail in the last 12 months too) but it was painful none-the-less because there were things on the backup drive that weren't on any other drives at the time.
Read more...